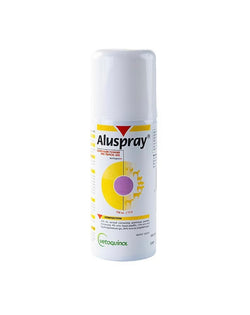 VQ Aluspray Aerosol 210mls
Micronised Aluminium Spray. Physical barrier product for topical application on animals. Shrink body tissue, limiting bleeding and exude. Forms a protective physical barrier against micro-organism, Moisture, dirt and insects. Acts as an adhesive bandage. Waterproof. Washed off easily with warm soapy water.
Shake well before use.  A superficial application onto wounds.
Use once or twice daily, to produce a fine coating of the powder.
For optimal use, wounds should be cleaned, disinfected and sutured if necessary before the application of ALUSPRAY®.

ALUSPRAY® is an OTC product.